Dear generals, a new version of Dynasty Scrolls was released! To make our veterans rejoin the battle and have a better game experience, we are holding a Veterans Wanted Event from April 4th (12 a.m.) to April 6th (12 a.m.) (GMT +8), with up 100% of the VIP EXP and tons of other rewards!
Event Time:
April 3 12 a.m. - April 6 12 a.m. (GMT +8)
Server:
A39-Athena
E38-Aglax
AS88-Wei Yan
Server maybe added according to the actual situation.
Event Rules and Conditions for Veterans:
- The old account level must have reached Lv.50 and above
- Players on the old account have logged in for 15 consecutive days before April 3rd (12 a.m. GMT+8), i.e. the last login should be before March 19th (12 a.m. GMT)
You will be eligible for participating the event if your account meets both of the above requirements.
- You need to login in your new account in the new server (above server) which will be released from April 3.
- Event details and rewards can be seen at your new server: Event - Return Players
Event Rewards:
Get 300 VIP EXP, 3 Premium Recruit Orders, 150 Training Pills, and more on day 1!
[VIP EXP carryover]
Tiers Requirement VIP EXP carryover
1 Reach level 10 30%
2 Reach level 20 40%
3 Reach level 30 50%
4 Reach level 40 70%
5 Reach level 50 100%
[7-day Login Return Gift Event]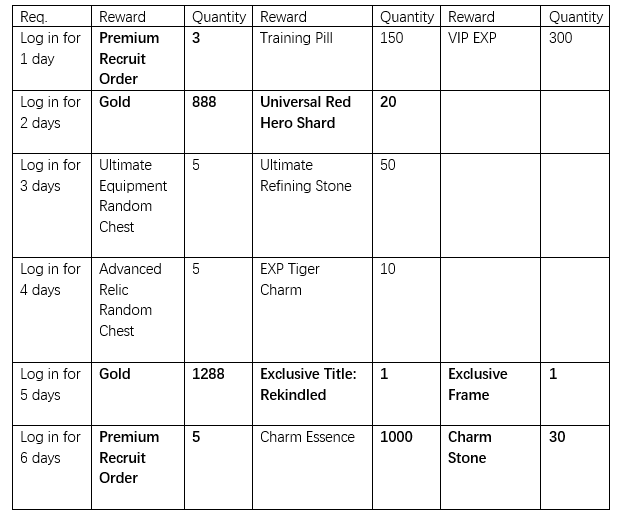 Note:
Players must login during the event period to start the 7-day login return gift event.
The exclusive title [Rekindled] gives the following bonus when activated: Total ATK +1000
View activated [Returning Hero] campaigns in [Event - Return Players]
If multiple characters on the same account have VIP EXP, the VIP EXP that can be carried over is equal to the character with the highest VIP EXP.